Have been a busy little beaver the last couple of days. Managed a couple more Design Team Layouts for The Little Scrapbook Shop.
Finished this one last night.
And started and finished this one this morning.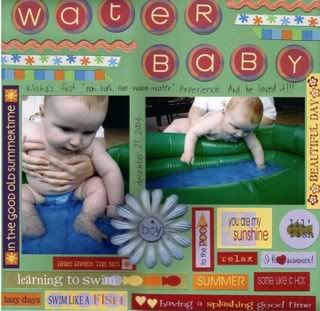 Had a funny memory pop into my head while looking at the "Water Baby" layout.  Not sure if it is noticeable on this picture or not but my fingernails are extremely long, or at least some of them are.  I remember going to the Melbourne Zoo when I was much younger, and while looking at the seals doing their performance seeing a lady with really, really, long nails.  Longer than I had ever seen before.  And I was convinced that she was a witch.  Lucky for her we don't live in the dark ages, or she might have been burned at the stake if I had anything to say about it.