Truly, I have no idea why all of a sudden I've been scrapping so much. Here's one I've just finished. Couldn't scan it as it's quite lumpy, and the photo's not the best quality either.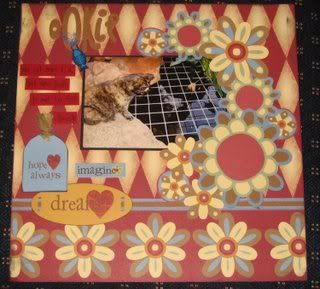 And a view of the flowers which are layered…
The quote on the page reads – "The cat loves fish, but she is loath to wet her feet".
I was searching all over the place for cat quotes and I have to say it is quite scary how many there are. And even scarier how many of them are quite true and cleverly said at that.