Some photos. In fact lots of photos. Lots and lots of photos. You could probably call this a photo post. I hope you don't get bored easily.
Right from the very beginning of this pregnancy Brett and I were hoping for a natural delivery. And at the same time we knew that there was a good chance it wouldn't happen. So for quite a few months we had the 15th of December pencilled in as a possible c-section date with the obstetrician.
By the time of my appointment on the 11th of December, I was, to put it as nicely as possible, completely over being pregnant. What with constant pain in my pelvis, regular heartburn, general discomfort with being as huge as a beached whale, a very, very active baby, insomnia, hot weather, swollen feet that looked like some weird balloon, legs that needed help getting into and out of bed and the car, I was crying myself to sleep (in the spare bedroom) just about every night.
So when the ob said that there wasn't a glimmer of hope that the baby was even having thoughts about making an appearance, but we could wait another week and see… I confirmed the booking for the 15th.
Keeping it secret this far had been hard enough, but now that the date and time were certain it was even more difficult. Especially when we bumped into friends on Thursday night and had dinner with them! But I managed.
Come Friday morning 1.30am, I was wide awake. Come 2.30am I had given up on sleep and gotten up. Come 3.30am I was amusing myself by scrapping and taking pictures of myself in a desperate attempt to keep busy.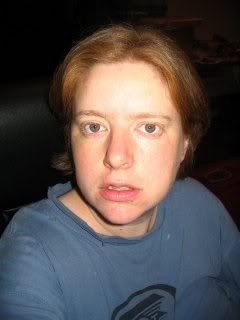 About 5.30 I woke Brett, finished my last minute packing and got ready. 6.00 and Mum and Dad A. arrived, and we were off. It was quite surreal, knowing this was the last little while of being pregnant.
Got to the hospital about 6.30, shown to the room and all the final preparations made. Can't quite remember what time we were taken down to theatre, must have been about 7.00. Then it was action stations and once taken from the holding area to the actual operating room things really start going quickly.
The longest part of the process is the anesthesia – a spinal block – not the most pleasant experience having that done, but a necessity, wouldn't want to have a caesarian without one. Once that was done and the Dr Blair had started it felt like it was all over in a matter of minutes. I wont go into gory details, but if you'd like to know them feel free to ask, and I'll e-mail them to you.
At 8.07am our little one entered the world. As her head was being pulled out, the anesthetist said to us, "It's got black hair", and I really thought that he was joking. But then there she was, black (or brown) hair and all. Cayley Hope. Our daughter. And a sister for Elisha.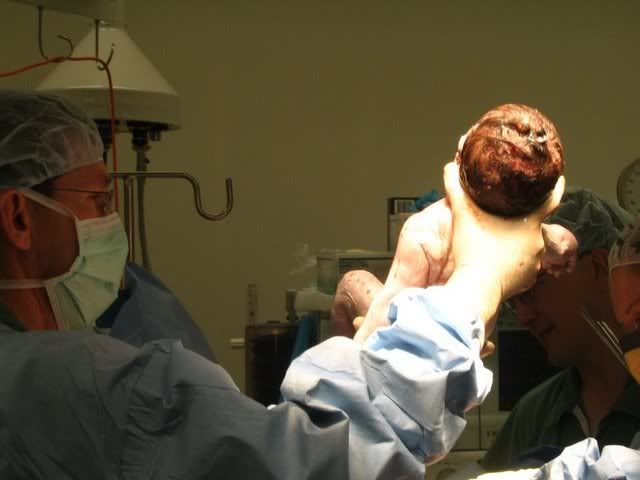 After a very brief introduction she was taken over to the warming table and checked over by the paediatrician. I wasn't taking my eyes off her.
Brett got to cut the cord, and he managed to do it without attempting to bleed her out, as he tried to do with Elisha. Experience is a good thing.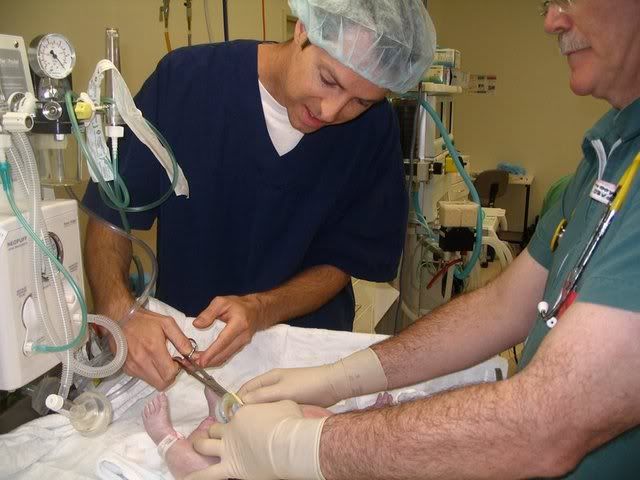 And then finally, finally, she was in my arms.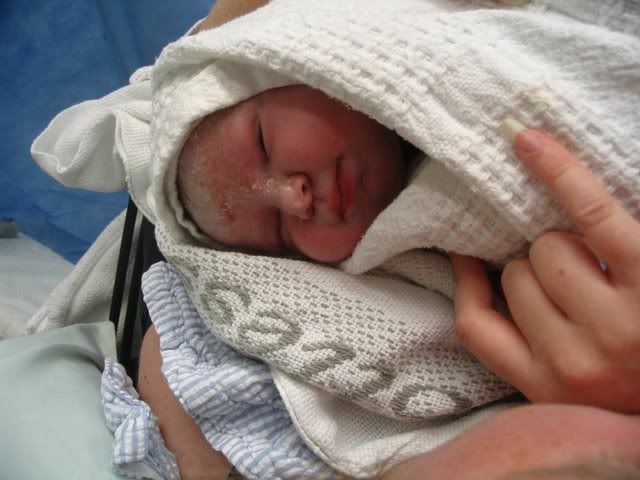 By this time I had developed the lovely side-effect of the spinal block – the shakes – they lasted for about three hours, and would have to be the worst part of the whole experience. I had this with Elisha's birth, but they only lasted ten to fifteen minutes, and were nowhere near as severe. It was so bad this time that my jaw was clenching, making conversation rather difficult.
After everything in surgery was finished, and I'd been in recovery for a little while, waiting for my blood pressure to get back up a bit, it was back to the ward where all the vital stats after birth were recorded. The lovely, not so little lady measured up as follows.
Apgar scores of 10 & 10 (or was it 9 & 10? I'll have to check).
Weight: 8lb 9oz or 3910grams
Length: 53cm
Head Circumference:37cm (for which I should be thankful I did not give birth to naturally as this is rather large)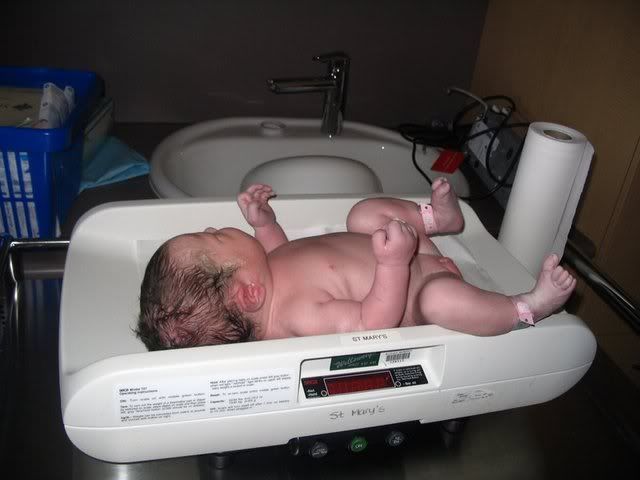 After all the stats were done it was time for a bit of a feed. I didn't end up feeding her for all that long as I was still shaking and having been up so long was very, very tired, and the combination made me a bit scared that I might drop her, so she got put back in her crib for a bit of a nap. Being born is hard work don't you know.
Meanwhile, my mum had arrived. I think she was in the waiting room when I got brought back from theatre. Very eager to meet her new grandchild and check that everything was okay with her daughter. Also got a visit from Heidi who had been in the labour ward for some monitoring.
As well as visitors, we started the job of calling people to let them know the newest member of our family had arrived. First of course was Elisha, but he didn't want to talk on the phone, so we passed the news onto him via Nan and Pop. After shopping for a present for her and having morning tea they also arrived, and Elisha got to meet his new sister.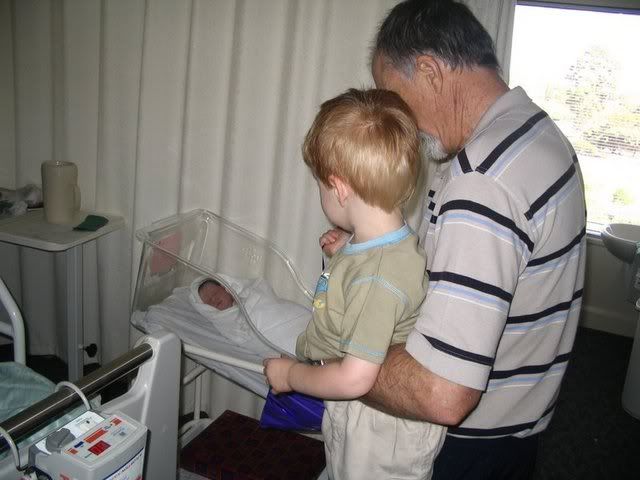 Cayley had "bought" Elisha a present for when they met, but he was so fascinated by looking at her that it was quite a while before the present was unwrapped.
We were moved to a single room about now. Cayley had some more sleep and then Brett got a cuddle.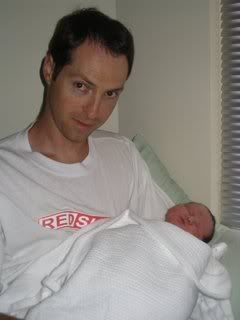 And now we are a family of four.
A few more (quite a few) photos from the hospital stay through to going home, but with a shorter commentary now.
I know this is not actually a very good photo, but for some reason I just love it. And so here it is.
Oh my goodness, I really hate this photo of me, still got a BIG post pregnancy belly… but hey it's the way it was (or is that is?) and at least everyone else is looking good (…and don't we look pleased with ourselves?). Actually for the day after having a baby I don't think I look too bad!
Sleeping peacefully, first bath, cuddles with her brother.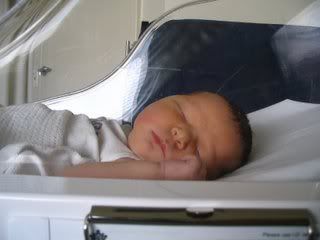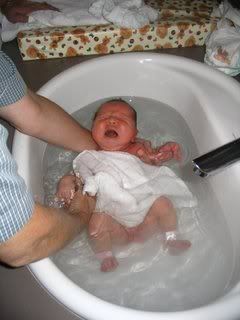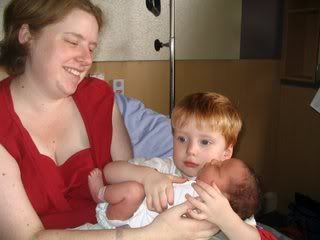 And some more cuddles a couple of days later. Who's looking rather cheeky and then rather relaxed?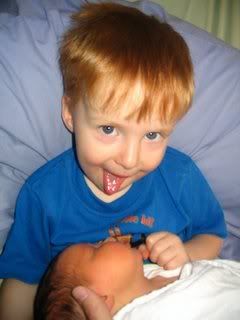 Brett's effort at a family portrait, seeing as we hadn't had one yet. Pity about Cayley's head.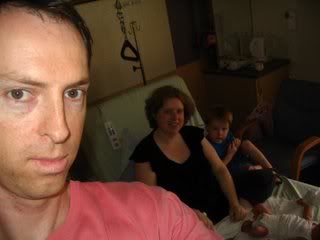 Cutest face ever! I do love it when she pulls this one. It makes me giggle every time.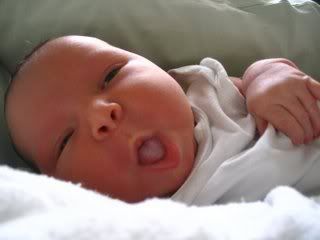 And this is how I spent the entire supposedly romantic candlelit (at 6.30pm on a daylight savings day in summer) dinner. How DO you do romantic with a newborn?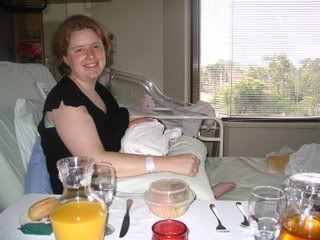 In her home-coming outfit.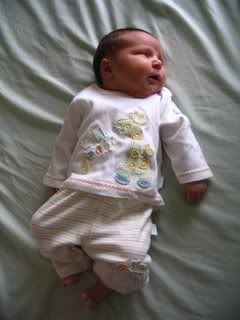 Precious cargo. I do believe Brett was rather nervous driving home.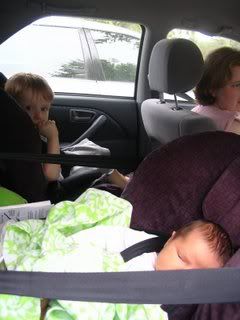 Oh my, how big does she make the cot look?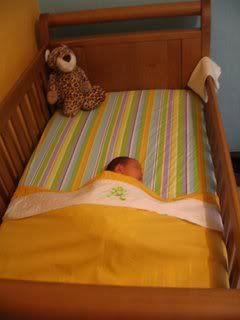 Thank you for making it all the way to the end. Here's one more just to make you sigh.