Somewhere under the messy desk!  I've been trying to clean the scrapping table since getting home from the hospital, but somehow it is just not getting done.  Every time I start something crops up and I need to divert my attention.  Today was going to be THE day and I was going to get it done.  But looks like it will have to be tomorrow.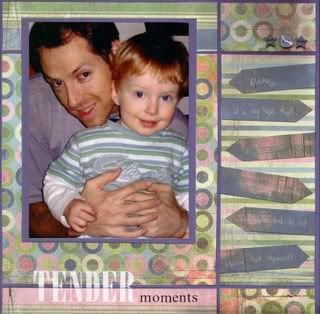 I'd like to make an effort to put more scrapping creations up for display, so here's one I've had in reserve.  I entered this into the Scrapbooking Top50 Australia December sketch challenge, and found out today, I won.  Suprised and absolutely stoked.
I've got a couple of others up my sleeve just in case I don't manage to get that desk tidied tomorrow.  Here's to hoping that it does happen though.
One reason that I need to get the desk tidied is that I got a lamp to go on the table for Christmas, from Cathy.  Yay, no more scrapping in shocking light.  Thanks again Cathy, love it can't wait to use it.
I've also been wondering if the arrival of a daughter is going to affect my scrapping style.  It's certainly going to even out the amount of pink to blue in my stash.  Already been to the local scrap shop to get some pink cardstock.  Any reason for a good bit of scrap shopping though hey?!
We've been retiring to bed rather early the last few nights, and it's getting towards that time now, so I'll see you all tomorrow.