Another winner! This time at Anna's Craft Cupboard, for their December product competition. The challenge was to use foam stamps. The title and orange swirls are the required item in this layout.
Actually these photos are quite funny. Elisha has a toy baby, and a toy kitchen. Put the two together, and you don't get the baby being fed dinner, you get the baby being microwaved!
I wonder what Elisha has in store for Cayley. Now that I think of it, it was the frypan from this kitchen set that he chose to hit her on the head with. I think I was the most upset over that incident. Cayley whimpered for all of two seconds, Elisha ended up in his bedroom because he didn't want to apologise, and I had a cry. I'll just blame it on hormones.
We had a visit from the Child Health Nurse this afternoon. Cayley is stacking on the weight, which is very nice to know seeing as she seems to be throwing up all the time.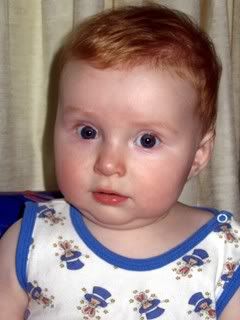 Cayley's weight statistics:
15/12/2006 – 3910grams
18/12/2006 – 3630grams
21/12/2006 – 3860grams
02/01/2007 – 4500grams
I think we could be in for this look again… —>
Quite amazing really how much difference nearly two years makes, and yet how much the same he still is.
Here he is today in a toy that was his and I've pulled out to use with Cayley. I think I'm going to have a hard time breaking it to him that he doesn't fit anymore!