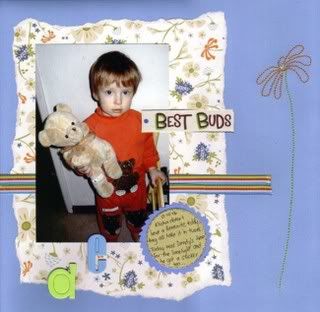 This layout won me a voucher from Karen's Scrapping Kupboard. There ended up only being three entries in the competition so they split the prize between us. Can't complain about that now can I?
The idea behind this competition was to use inspiration to do a layout. I scraplifted a layout of Gabbie's for the general set up of the layout. And the flower down the right-hand side of the layout is an idea from Anna, it's hand stitched. Looks quite effective if I don't say so myself.
Brett left me at home with the two children for most of the afternoon. It went awesomely. Of course I'm not expecting it to all go so smoothly every time, but it was nice for the first time.
I popped the two of them in the pram and we walked over to the local shops. Elisha got some hot chips for lunch. And a cupcake for later in the afternoon. Cayley slept. I got some exercise and a couple of rolls for lunch (and a choc chip muffin).
When we got home the kidlets played tag team. Cayley slept while Elisha ate his lunch. When he was done and down for a nap she woke shortly thereafter, and not too long after I finally got her settled Elisha got up again. I did get a little bit of me time in there, but I'm sure glad I didn't try to get a sleep as I would have been disappointed.