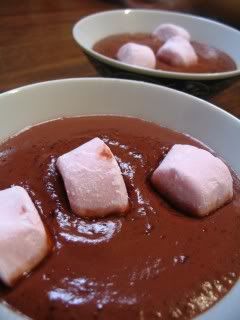 (You have to say the post title like Muppets Pigs in Space).
Today was another step closer to what is going to be an average day in our household. Mum came shopping with the kids (kids!!!) and I this morning, and while we were out Brett left the house for what ended up being most of the rest of the day.
Later in the afternoon Brett's mum came over to return Elisha's repaired Spiderman couch.
I put her and Elisha to work making "Pigs in Mud". I got this idea from a blog I read, except I can't remember who's it was. If someone knows can you tell me, and I'll give credit. It is such a basic thing to do, and yet Elisha had so much fun making, anticipating the eating and eating it… he even ate all his dinner in preparation.
It's just plain old instant pudding (or mousse) and pink marshmallows. 'Twas yummy, and it takes all of five minutes to prepare.  Even with a two and a half year old.