This is Maisy's Twinkly Crinkly Fun Book.
I bought it from Total Learning from my friend Karen.
She brought it with her to morning tea after the baptism yesterday.
I gave it to Elisha to read while I was opening the presents Cayley recieved.
I did not read it to him first. I did not offer any explanation of the book to him.
He sat around the corner on the step to the lounge room and quietly read it.
I busily opened presents.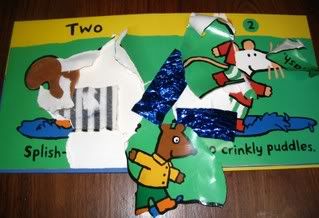 A while later I peeked around the corner to take a look at him.
Whoopsy!
He was looking for the horsie?!!
I think he thought that the squirrel's tail was a horse.
I've ordered another copy of the book from a different friend who does Total Learning. At least it is on special this month.
Poor Elisha was so confused.
I'll make sure I sit down and go through the book with him when the new one arrives.
I had to laugh though. And was not in the least angry with him. I mean, how COULD you be angry with this?