On Saturday Uncle Peter, Elisha and Brett went to the Air Force Museum. This trip has stemmed from a library visit. While I was in hospital after the arrival of Cayley Brett took Elisha to the library. They borrowed a big book all about airplanes. Elisha likes looking at the pictures, especially the planes that have been painted decoratively. It is Brett who is avidly reading it from cover to cover however.
So a trip to the museum was called for. Funny that we've never been before considering it is literally next door to church.
They had a great time. See for yourself.
Elisha thought this was great. He was sitting in the plane and looking out the window as the wings moved under his direction.
And then there were the model planes. What was especially exciting was the Spitfire painted like a shark. Just like in the airplaine book. Elisha quite possibly got a bit closer to these than you are supposed to.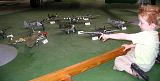 THE button. The button that you pressed to make the propellor on a model plane go as well as some sound effects. I believe this button was pressed on a number of occassions.
Now is probably the time to tell you about Elisha and windsocks. I can't remember whether this fascination started from taking him to Jandakot Airport to watch planes, or whether it was from my time in hospital and the windsock near the helipad. Doesn't really matter. The point is Elisha has become a windsock spotter. We have been amazed at the times we're driving somewhere and from the rear of the car comes the announcement, "Windsock!" And there always will be a windsock somewhere in view. He managed to find one at the museum too.