I'm going to add a little picture of a toy or a design of an item of clothing at the start of every post; well I will if I am organised enough. I was thinking about how many cute clothes Cayley has been given and how it is highly unlikely that I will ever take photos of her in everything, and from there the idea was born. I wont necessarily write about the picture and it wont have any relevance to the post, just a strange or pretty (depending on the day) extra for you to look at.
Today I am a bit stuck for what to write about again. And I have come up with another idea. I'm going to scan a random photo from my massive pile and just write a couple of thoughts that pop into my head about the photo.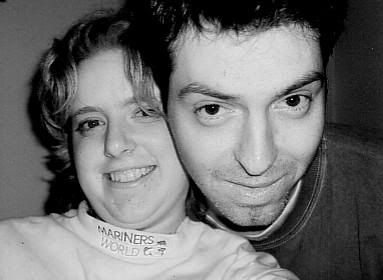 This is a fairly old photo of Brett and myself. I can probably date it roughly. See the writing on the collar of my top. Mariners World. I worked there from October 1996 til sometime late in 2003. Brett and I started going out in 1998, which is also when I started growing my hair out. My hair is looking a bit in between really short and a length of any significance, so perhaps this is 1999 some time.
I think it must be too late. I'm sure when I first picked the photo out of the pile I had lots of ideas of what I could write about, but all I'm pulling from my brain at the moment is a big lot of nothing.
The fact that I've been settling Cayley for about an hour probably doesn't help. She's asleep now. Think I might go and do the same thing.