I've done quite a bit of scrapping.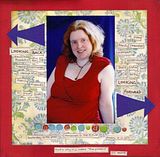 This one I did for the January theme competition at Crafting In Style. The theme for the month was to use a quote on the layout and add it to their quote book.
The quote on this reads: "Yesterday is the past, Tomorrow is the Future, Today is a gift, that's why it's called 'the present'. – Bill Keane"
Judging has finished and the winner will be announced tomorrow. There are some pretty awesome layouts in there.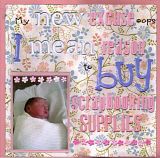 This one is a Little Scrapbook Shop Design Team layout. I had a lot of fun doing this one. I mean she really is a good reason to go and buy more supplies. How am I supposed to do any layouts about Cayley without anything pink in my stash. Everyone knows I've never been a big fan of pink, so there's not a lot of it in there at the moment.
Another Little Scrapbook Shop DT layout. This one doesn't have a lot on it, as quite a few of the pages I've been doing of late. The simple look seems to be working quite well for me. I'm afraid this one is a shocking scan though. There should be a strip of the base white cardstock at the bottom, but it got cut off completely. The poem on this one is a little strange, but quite cute I think. "Some may own castles on the banks of the Rhine and hire orchestras each morning at nine. But richer than I they will never be… I had a dad who spent time with me." I took this photo at Point Walter the last time we went before Cayley arrived. I had to stay up on the grass. I knew there was no way I was going to be able to get up off the sand once I got down there.
I still have a few more, actually make that seven more to share, but I think three will do for now don't you?