All the following were done for the design team at Little Scrapbook Shop. Loved working with these papers, they're the My Minds Eye Signature Suite – Sweet Little One. Having a completely co-ordinated range of products to work with makes the page come together so much more quickly.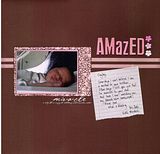 This one is a very simple one, not much to it at all, but I love it. The funny thing is that even though it is an extremely simple layout it took me about four days to complete. Something to do with having two children.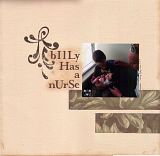 Another simple one, again loving the way it has turned out. Something to be said for the less is more theory some days. This one took all of about an hour or so. Elisha and Cayley must have both been asleep. It is a hard decision when that happens. Do I sleep or do I have a bit of time to myself.
If you are of the scrapbooking ilk, you may wish to head over to The Little Scrapbook Shop tonight, something BIG is being revealed. Looking forward to hearing more.
I'll leave it at that again today. Think I've got about four more to go. Of course I could increase that amount if I got off the computer and went and scrapped. We'll see.
Just wanted to apologise that my side bar is a bottom bar at the moment. Not sure which post is causing it to do that, but hopefully it will fall off the bottom of the page soon and we'll be back to having the sidebar in its rightful place.