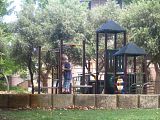 We went to a park near the city for a picnic today. Just a few photos to share.
Elisha loved the playground. And as always he loved being outdoors. He and Rachel were in the gardens, in the dirt, playing with the sand and the leaves. I think he's brought half the garden bed home in his hair.
Even after having a shower he's still got a good amount of sand in there.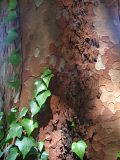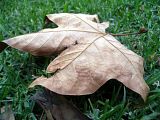 Brett and I both fiddled around with the camera. Brett found some very cool looking bark, and I was shooting everything in sight, but this is one of my favourites.
Remember me saying that we don't have as many photos of Cayley as we did of Elisha at the same stage. Well I have also come to realise that we hardly have any photos of us as a family. Not of Brett and myself, or Brett, Elisha and myself, and of course not of the four of us.
And seeing as there were other people there we asked for a photo of all of us. Thanks Dave, you legend you.