Can an eight and a half week old baby dislike the dark.
After almost every late night feed I try to close Cayley's door and/or turn off the hall light, and almost every time she starts crying. When I open the door or turn the light back on she stops.
Guess we'll have to invest in a low watt light bulb.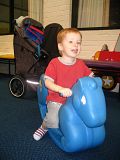 Took Elisha to an indoor playground today with a couple of his little friends. He had a great time. Sadly of the few photos I took only two worked out properly. Camera was doing something strange.
I would have taken more except I forgot to take socks for myself, so I couldn't go into the playground with him. And Cayley was rather attached to me for much of the time.