But have to keep up my posting every day thing so here's a couple a couple I prepared earlier.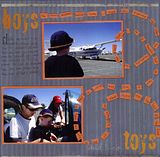 This is a layout I did for the Little Scrapbook Shop Design Team. Not hugely happy with it. Well it is mostly okay but I the journalling on the left is shocking. Yes I know I should have used pencil first, I did, would you believe, but it's still bad.
Not much I can do now. I'm not one for pulling apart and doing again. Learn from my mistakes and move on I say.
This one however, I love. It just worked perfectly. Cutting out the title so that it could be put onto chipboard letters was a bit tricky but well worth it I reckon.
Now I'm starting to run out of layouts to share, I think I've got two to spare, so I'd better get scrapping!
Oh one quick Elisha thing. We visited a friend today and at the end of the visit he was quite naughty, pushing over his friend and then hitting her younger brother on the head. All within the space of about one minute. I'm not sure what came over him. He was disciplined, I told him that he'd been very naughty. We then went on over to visit nan and pop as we were only about a minute away. All the way there he was telling me that he was going to tell pop that he had been very, very naughty. I don't think he understands what the word naughty means. I did tell him that naughty was not a good thing, but a bad thing, and that he could tell pop if he wanted, but that pop would be sad he'd been naughty.
He still announced his naughtiness with much gusto. Will have to think about this a bit I believe.