These are the last two layouts I have to share and then there are no more. I need to get creating.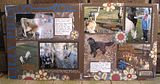 The first is a layout of Elisha laying on the floor in Cayley's room.
The second is about our weekend at Lilly Pilly Cottage Farmstay.
As always click for a closer view.