Managed to do some scrapping today, which means I have something to share.
This one is for the "Big Challenge" that Bon's Scraps is running. The challenge for round one was to do a layout using peach and aqua. Not colours I'd usually use, but I'm happy with the result. Hopefully I'll make it through to the second round.
The second thing I did was a letter for the door of Elisha's room. I've had the chipboard letter for a while and just hadn't gotten around to doing it up yet. Got the little nudge I needed as Scrapbooking Top 50 Australia has altered monograms as their Off The Page challenge for February.
The full picture isn't all that clear, so I've also done a few close ups for a bit more detail. Elisha loves it and wants to keep touching it. I wonder how long it will actually stay in the door and/or in once piece.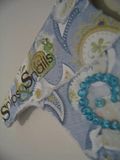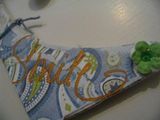 Now can I find something to write about tomorrow. That is the question.