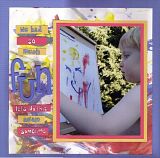 Can't believe that the photo in this layout is almost from a year ago.  I can remember it so clearly.  And it seems that it was only last week.
We've never painted outside and messy like that since then.  Must be about time to do so I reckon.
And although Elisha is bigger and has more control when he's painting these days, I think we'd end up messier, because he'll think it's great fun.
The background paper is on of the many paintings that we made that day.