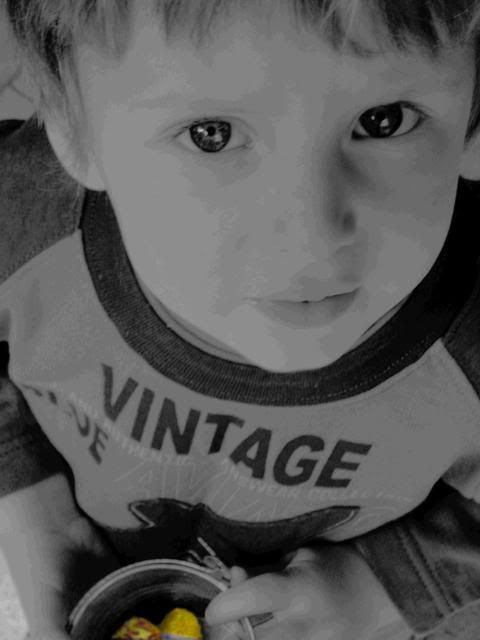 Hope you and yours had a wonderful Easter.
Elisha has been hearing things around the traps about the Easter Bunny.Ã  And he saw him (and was frightened) at the shops.Ã  But I have no idea what to tell him.Ã  I know that if we tell him about the Easter Bunny and Santa it might detract a little from the true meaning of these days, but at the same time he's not going to believe in them when he's twenty (well I hope he's not).
Probably have to figure this out by Christmas this year because he's really catching onto things rather quickly these days.
There has been a few chocolate eggs consumed however.Ã  And this morning after church I went and hid a few in the garden just for a bit of fun.Ã  It was great.Ã  Elisha loved looking for them, though he walked right past and even nearly stepped on one without noticing it.
Cayley, well, she is still completely oblivious.
I have been doing LOTS of scrapping, but it's for the Little Book of Big Memories over at The Little Scrapbook Shop, so I can't put them up here.Ã  But if you want to go look at them please feel free.