12.04.07
Had lunch at my cousin's place, for a cousin catch up. Was pretty cool to see them and their kids. I find it quite amazing that when you don't really see someone very often, you can really see the children's resemblance to their parent or parents.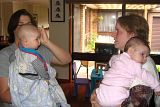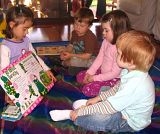 Cayley and L got to meet. They were born a couple of weeks or so apart. How's this for cool. Lachlan was born on my dad's (Pieter, pictured below) birthday. Cayley was born on his brother, my Uncle Gerry's birthday. Cayley was born on L's due date.
N, reading a story to some of the others. Just too cute.
13.04.07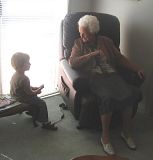 It took quite a while but eventually Elisha plucked up the courage to push the buttons on Nanna's "robochair". Now there's no stopping him.
Today was the day for the Little Scrapbook Shop catch up. Well a mini catch up anyway. Amazing how busy we all are and how hard it is to find a date that suits many. Brett was going to be dropping Joshua to the airport so he dropped the kids and I at the park and left us to find the others.
It took a while. I'll let you go to Narelle's blog entry to find out why. I had such a lovely afternoon, and I tell you I am usually a pretty shy person, but so far when ever I have met a scrapbooking person from online I have always felt an immediate friendship. I guess scrapbooking is a pretty heartfelt hobby and we share our lives with each other through it.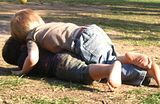 Elisha had great fun too being very much a boy with his new pal Liam. I usually stress out a lot when Elisha plays rough house with other children, but they were both giving as good as they got, and all in all it was actually quite friendly.
Finally I shall leave you with a sequence of photos showing the dramas of setting up a group shot that includes toddlers. Tom and Megan had the right idea… sit, pose and it'll be over before you know it.