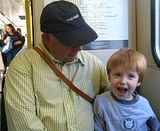 The very next day after the Puffing Billy adventure we went to the Victoria Markets. But the markets weren't the only excitement of the day. We travelled into the city by train. Elisha loved it. I don't think he'll ever be able to overdose on trains or planes. What a boy. Cayley slept.
Once in the city, we met up with Uncle Gerry and caught the tram to the markets. Do you think Elisha enjoyed the tram ride?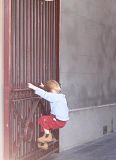 Before beginning our search through the market for a green paw-paw we had to stop for coffee (well I didn't have coffee but the men were "dying" without their morning fix). Elisha wasn't too keen on sitting still so he climbed the walls instead.
Now why don't I have any photos of all the gorgeous produce? Probably because we were pushing a pram and dragging a reluctant toddler around everywhere. It's a pity because it is all set up so nicely. Elisha's favourite vendor was selling fowl. I think he would have stayed all day and looked at the chooks and ducks. I didn't bother explaining what was most likely to happen to them.