Scrap… and other secret missions.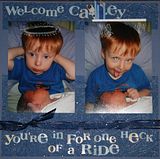 Well okay, not so secret. They had already started before he left. Dad and Mum Adams have taken a couple of aircondioners out of walls in the house, and over the past few days dad has bricked the holes up. All this came about because I want to move and rearrange my scrap space… AGAIN. I think as I accumulate more and different stuff I have to keep changing how I store it. I also love organising bits and pieces. And Howard's Storage World has finally made it to our area. Watch out bank balance.
So here's a layout of my cheeky boy and Cayley, she has grown SO much. *sob, sniff*.