Elisha has been going forward in leaps and bounds at swimming. Today he motorboated completely under his own steam, and without daddy hovering nearby. The freedom! He is getting much more confident all round at swimming and it is a delight to watch him having so much fun.
I think his favourite time is probably morning tea though. Jelly and grubs.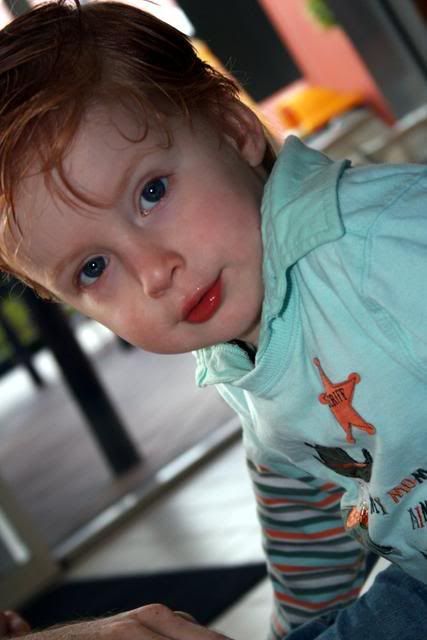 He is definitely growing up. And much to quickly for his poor old mother to cope with. I guess asking him nicely wont make him slow down any will it.
Yes, yes, he does need a hair cut. It seems to be almost a constant state of being. I am not a big fan of the long haired little boy look. My mum is, and last time we had his hair cut he was sitting on Gran's lap, and she was instructing the hair dresser. I forgot about her preference for long haired toddlers. Hence the need for a hair cut so soon after his last one. Okay, it is nearly two months ago, but that is sooner than usual.
Almost every week after swimming Elisha asks Brett if they can go to the play gym at the complex, but the answer has always been until today in the negative.
But today we had our playgroup third birthday party – as one of the families is leaving so we thought we'd have a bit of a bash before they headed off.
Elisha was just so excited that he was going to be allowed in there. And he had a ball.
Literally. And if you take a good look at the photo you'll see another sign of the fact that Elisha is growing up. That is not a nappy peaking out of the top of his jeans. It's Thomas the Tank Engine underwear. I guess that's a sign that he isn't too big yet either.
And we can't just have photos of Elisha can we?