Did something by accident, but think it is quite effective. I didn't want the brads to be nice and shiny seeing as everything else has been distressed. So I filed them a bit. Then when I put a bit of paint on them. And then accidently added a bit of Tim Holtz distress ink…
… then being the impatient person that I am I tried to add the rub ons before everything was completely dry.
They wouldn't stick… BUT they pulled the paint and ink off and now it has a masked effect. Not sure that it would work every time though.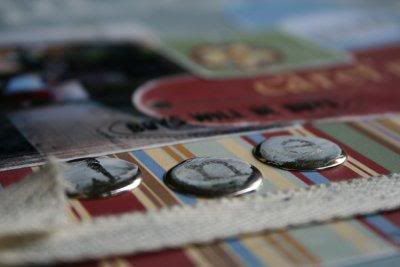 LSBS Products Used
* MM Foam Stamps – Misunderstood
* White paint
* 3 Bugs In a Rug 12×12 Paper – Spicy Cardamom
* 3 Bugs In a Rug Die Cut Tags – Spicy
* Urban Lily Rub On's – His
* FTI brads
* Bazzill Really BIG Brads – Silver
* American Craft Rub Ons – Mini Marks, Ned Jr
Black
* Tim Holtz Distrtess Ink – Weathered Wood
* twill
* white bazzill
Other
*provocraft paper